THE ONE MAKEUP YOU NEED! A CRAYON STICK
Time poor, hate laboured makeup, but in need of a quick fix? I'm THE most laidback beauty ed there is, so here's my makeup bag of crayons and sticks for the easiest makeup regime EVER!
I'm not into layers of makeup: it's ageing, fact. What I am into, however, is real radiance (that'll be your skin beaming through), accentuating and defining (those magnificent lips and eyes), and a fab amount of lifting (I'm talking 'cheeks' here).
Time to embrace the makeup stick!
The ultimate makeup-on-the-go: from crayon to balm, pencil or stick, a few strategic swipes of foundation, concealer, bronzer, brow, highlighter, lip, liner and/or shadow. What I love best is their texture: smooth, sheer, easy to glide, and layer with no creasing or creping. Plus, and it's a biggie, they need 'pretty much' no skill whatsoever – barely even a mirror. Think of this as your best, no-spill, long-wear, easy blend makeup, with stay-in-place creamy formulas that make them super ageless on all skins of all ages. So, if you're after a swift, failsafe and foolproof makeup regime that takes you into the warmer, lighter months ahead, 'stick' with me! Yeah, couldn't resist!
So, if you're after a swift, failsafe and foolproof makeup regime that takes you into the warmer, lighter months ahead, 'stick' with me! Yeah, soz, couldn't resist!
"With age, 'less is more. Everything is about definition. When we're younger we have darker eyes and a pinkier mouth, but greying brows, loss of lashes, a fading skin tone and lip line quickly ages us. So it's key to put that back, lightly."
Marc Jacobs makeup ambassador, Diane Kendal
GET A CHEEK LIFT
You can fake killer cheekbones in seconds with this sculpting tip I always do: take a sheer shimmer of highlighter, (such as Fenty Multi Stix, £38) and sweep it in a 'C' along the very tops of your cheekbones and just under your temples. Next, suck in your cheeks to find 'those apples' then draw a circle right on the fullest, cheekiest part using a fat, chubby crayon in a peachy pinky 'skin' blush, just above the hollows. Then just blend in the edges with your fingertips so it melts into your skin. In one swipe, try my fave By Terry Glow Expert Duo Stick Hybrid Illuminator in Peachy Petal, £38, that cleverly blends both in one stroke.
TRY THIS: Go bronze! I mean, who isn't up for a healthier sunkissed glow 365 days of the year? Creamy sticks and crayons keep a bronzy brown shade looking fresh, not grubby. The trick? Always keep the centre of your face light (and younger too) by adding any bronze just to the outer contours. One of my faves is Trish McEvoy Fast-Track Bronzer Stick, £31.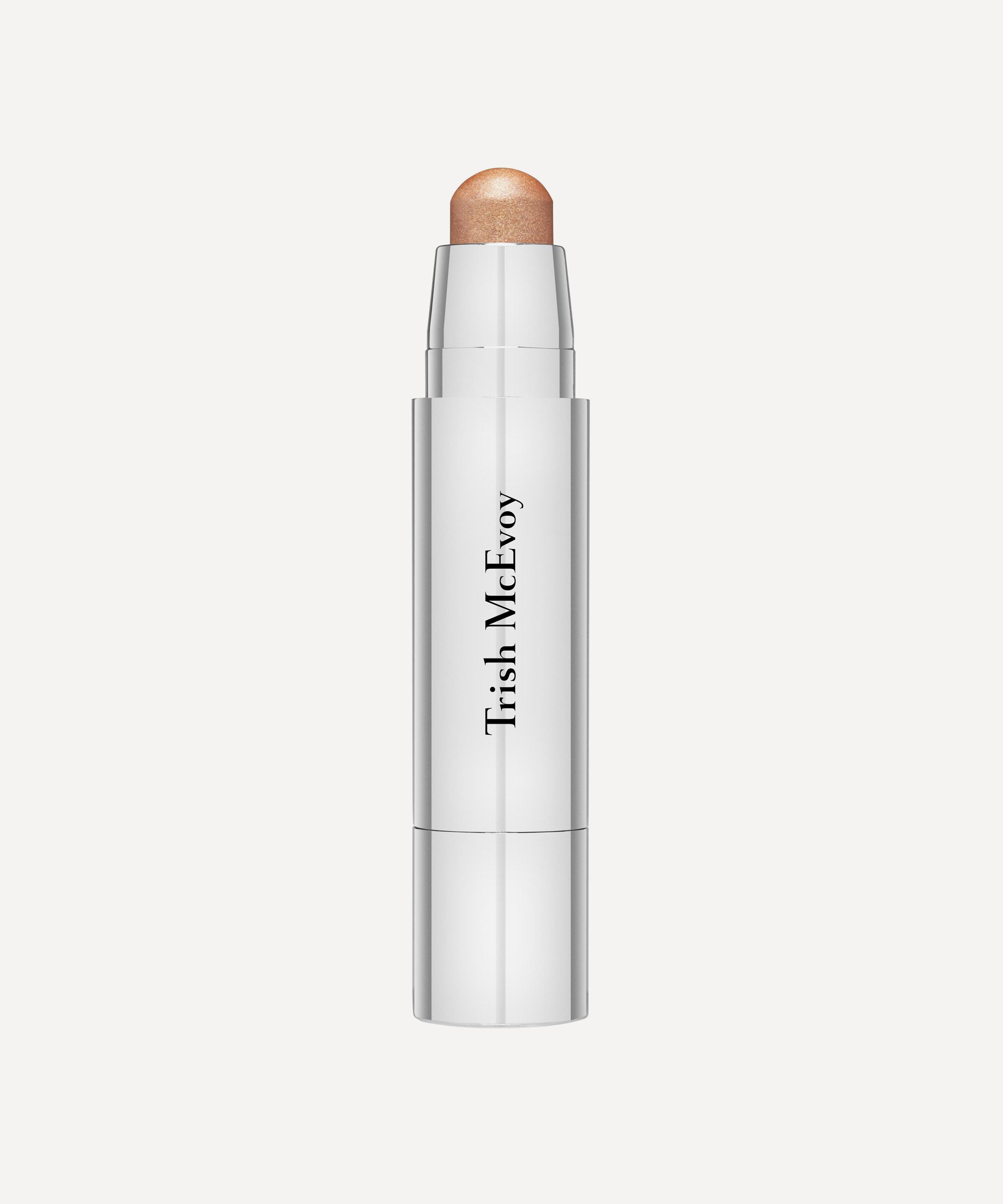 MULTI-MATCH Wear jumbo crayons on eyes, cheeks, and lips in one. "Colour-coordinating lips with cheeks creates a cohesive, fresh and uniform look that appears more natural, no matter what age," says makeup artist Mary Greenwell. Right now she's loving Laura Mercier Bonne Mine Stick Face Colour in Coral Glow, £27 (below). Other favourites include NARS The Multiple, £29, a semi-glossy velvety lip crayon as a blusher for a more coordinated look that's effortless and takes even fewer products to achieve.
"Mastering a multi-use product will save time and money on your makeup routine."
Mary Greenwell
LIP LOVERS
OK, so we all pretty much need a lip liner with age, to help define the shape and colour of our mouth and prevent lip colour from feathering into fine lines (and deeper ones), but they can be harsh. Makeup artists have long suggested rubbing pencil liner over our lips to avoid that harsh outline that clings on for dear life while our pretty creamy gloss comes off on the cup; but boy is that dated. Enter the new breed of velvet crayons: all the plus points of a traditional lipliner (letting you sculpt and shape your lip outline), yet smooth, sets without drying and in every shade imaginable.
JUST LOVE! Chanel Le Rouge Crayon de Couleur limited edition Jumbo Longwear Lip Crayon in Rose Clair, £28 in 8 shades, used by model in pic, super luxury lippie on the go in vibrant stylish colours;
or Mary Greenwell's new fave Laura Mercier Velour Extreme Matte Lipstick, £28 in 24 shades, velvety matte and longwear with a handy sharpener in the base.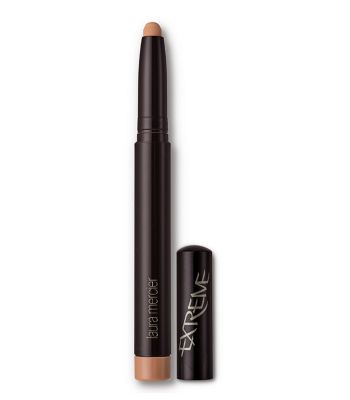 EYE EXAGGERATE, AS PER USUAL
My own crayon obsession is, without doubt, an eye stick. Forget laboured powdering to shape and contour, long wear shadow sticks and liners create a super fast smudge you can stroke on then blend with fingers. Better still, after a 30-second window, the best formulas stay in place all day without ending up in places you wish it hadn't: they really are that effortless.
Just love: Estee Lauder Magic Smoky Powder Shadow Stick in Cool Ash, £19, super cool shimmer stick:
Diego Dalla Palma Makeup Studio Deep Earth Eyeshadow Stick, £22, in the sockets, along the lashline, or MAC Pro Longwear Waterproof Colour Stick in Cinder Black, £16, indispensable for a rock chic.
TRY THIS For a chic eye line, take a neutral eye colour stick (such as the classic Laura Mercier Caviar Eye Stick in Cobblestone, £24, that never leaves my bag) and blend up upwards and into your eyelid crease to define your contours. Now take a black, grey or navy crayon and swipe along the lashline; close your eyes and line the upper lashline by pushing the crayon liner right into the lashes so there's no fleshy gap between your lashes and the liner. Use your fingertip (or a cotton bud) to smudge it right in. Need more? Reapply over the top in any areas that suit, the virtue of crayons is they layer with ease.
When it comes to eyeliner, the benefits go far beyond speed…
"Pencils contain wax, so stay on longer, plus, they offer precise, controlled application."
makeup artist Florrie White
COVER ALL BASES
Whether concealer crayon or foundation stick, you'll get a perfect base with these. Speed, ease, cover, and texture? What's not to love? They're not new, Ones from Nars, Clinique, Lauder Doublewear have been hugely popular, but the one I'm loving right now is the new Lancome Teint Idole Ultra Wear Stick, £25.50 and 20 shades, that's creamy enough to cover without drying, yet has a velvety finish that doesn't slide off the second you're out the door and a pretty decent colour spectrum for most skin types, but always scope for more.
Personally, I love stick formulas in foundation as they are super easy to use and portable for the woman on the go. You can also target areas easily – simply swipe on any redness or areas of concern and stipple in with a fingertip or a blender brush. Try this fab new Nars Velvet Matte Foundation, £30 in 20 shades, with a blender brush on the other end, and the shades are a really good spectrum from super fair to very dark.

 
WHO NEEDS A MIRROR
Here are a few extra multi-purpose skin beautiful crayons that are
easy to blend, smudge, and apply on the go!
PRIMER
Givenchy Mat & Blur Touch Mattifying Stick, £29, pinky gloss stick that turns velvety matte on
that turns velvety matte on application: great to prime, and for touch-ups on the move.
CONCEALER
Apply over moisturised skin, L'Oreal Perfection True Match Crayon Concealer, £4.99,
a precision-based eraser.
HIGHLIGHTER
Fenty Beauty Match Stix Trio Conceal, Highlight Matte Skinstick and Shimmer Skinstick, £46 for 3,
glorious texture, just rub into skin to highlight.
BLUSH
Clinique Chubby Stick Cheek Colour Balm in Roly Poly Posy, £19.50 in 4 shades,
blend light peach blush and a sheer shimmer for cheeks and temples.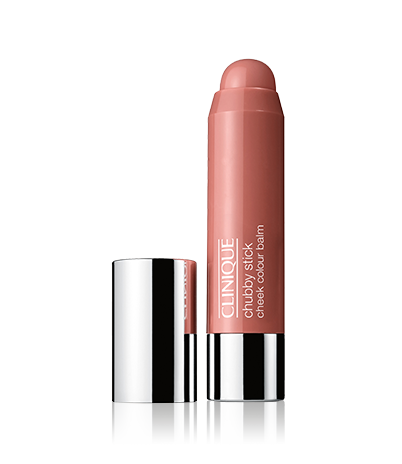 MULTI-FACE
NudeStix Nudies All Over Face Colour Glow, £32 in 3 shades at cultbeauty.com, dual-ended skin brightener, highlighter and bronzing balm for eyes, cheeks and lips, one end, detachable blending brush the other.